The reason I was cleaning like crazy was because we were having a very special guest for lunch on Saturday. Dr. T. Colin Campbell author of the important book, "The China Study" was going to be speaking in our town on Saturday and Sunday. I was asked if we could prepare lunch for him and his wife and another couple. I was a little scared, but what an honor. We have people over sometimes, but they are usually other families with kids, or people more like us. I've never cooked and cleaned for such a famous person before.

As it turned out, Dr. and Mrs. Campbell are wonderful people. The are small town people, just like us. They were easy to talk with, and easy to be around. I think everyone one present instantly felt at ease.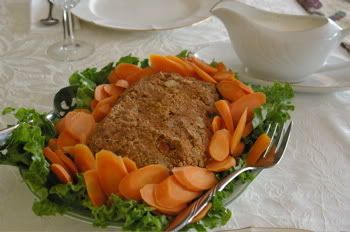 For the meal I served a lentil loaf out of my friend's just published cookbook, Pure and Simple by Tami Benton. She just sold out of them last night at Dr. Campbell's meetings, so as soon as more are ready, I'll let you know where to get them. It is a cook book featuring plant based foods that are gluten free, and MSG free. Just to get you interested, Tami gave me permission to share a couple recipes.

Tomato Herb Lentil Loaf
By Tami A. Benton

*Cook the lentils and rice ahead. Mix all ingredients together in a large bowl.
1 cup cooked brown lentils
1/2 cup cooked brown rice
1/2 cup ground raw sunflower seeds
1/2 cup tomato, chopped
1/3 cup onion, finely chopped
1/3 cup celery, finely chopped
5 T tomato paste or 1/2 of a 6 oz. can of tomato paste
2 T salt
1/8 t sage
1 t garlic powder
1/2 t onion powder
dash cayenne (careful, not too much)
dash rosemary
dash thyme
dash basil

Press into an oiled 4" by 8" loaf pan. Bake 350 degrees for 40 minutes or until brown. Allow pan to cool. Decorate a platter with lettuce leaves and place loaf in the middle. Or place directly on the serving platter and drizzle cashew gravy over the top.

It does freeze nicely.

My Notes: Make sure your lentils have as much liquid drained off of them as possible before measuring or your loaf ends up a little too wet. The loaf does come out of the pan easier after it is cooled. If you loaf does not come out in one piece, like mine did, then all is not lost. Just take a spoon and mound and smooth the sides. It still turns out pretty. I added cooked carrots around the edge of mine for decoration.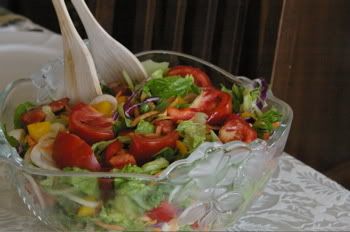 For the salad, never settle for a just lettuce and a few token tomatoes. Salad can be so pretty! Make it one of the most beautiful things on the table.

I almost always use romaine lettus, sliced or torn thinly. This salad contains:
tomato
yellow and red pepper
cucumber,
sweet salad onions (use green onions)
slivered red cabage
grated carrot

The salad dressing is out of Tami Benton's cookbook. Her recipe is a good place to start. I make about the same thing most days, but I find I vary the amount of seasons to my taste and desires that day. I've had many people get so excited about how yummy this kind of dressing is. And I have to say it is easy to make, you just have to have a good blender.

Ranch Dressing
by Tami A. Benton

1 cup raw cashews
1 t salt
1 T onion powder
1 T garlic powder
1/4 t thyme
1/4 t rosemary
1/4 t basil
1 T fresh lemon or lime juice
1 cup water
1 T dill (after blending)

Put all the ingredients except dill in the blender and blend until very smooth. At the end add the 1 T dill and stir in or pulse blender just once or twice on a slow speed.

My notes: Experiment with the amount of seasonings. You are competing with the flavor enhancer MSG when you serve homemade ranch dressing, so it helps to put in a lot of herbal flavor. I don't usually put in only about 1 t garlic powder and 2 t onion powder and I usually add more basil, maybe 1 t. I also like to add 1 t of ground mustard powder. And because my kids aren't crazy about that much dill, I add only about half of what is in the recipe. But I have to say that any variation is good. Fresh herbs are also wonderful, if you have some out in your garden, put some in. Add more water if you want it more pourable. Figure out what works well for your family.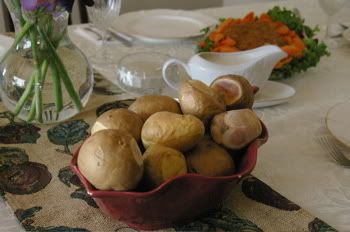 Baked potatoes are easy to prepare. I had them in the oven early in the morning with time back set, so I didn't have to remember when to turn them on. I used Yukon Gold potatoes, because they are naturally a little yellow, and are delicious without any margarine. Instead of margarine, I serve a cashew gravy. This time I used Tami's recipe again. It is a really good one.

Onion Gravy
By Tami A. Benton

Saute onions until soft:
1 large onion

Blend until smooth:
3 cups of water
2 T rice flour
3/4 cup raw cashews
1 1/2 t salt
1/8 t garlic powder

Add blended mixture to the onions and simmer 5 minutes or until slightly thickened.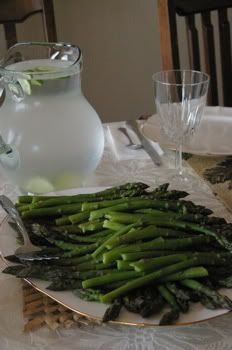 I included in the meal with a platter of fresh, local asparagus, and a pitcher of lemon water. For dessert we had a platter of fruit. It was a vegan, gluten free meal that any one could enjoy.