I did want to write and say that I am thankful for my kids. They are the reason I had a wonderful Mother's Day. Without them, I wouldn't be a mother. This is the second year in a row that I didn't have to fix breakfast. My 10 year old daughter took charge and made a lovely breakfast for all of us, without help. She made some "fried" potatoes, cooked without oil, and seasoned nicely. She made scrambled tofu, just the way I like it. And she cut up a pineapple all by herself, and this I didn't not know she could do. There were also apple pieces. She served the meal out on the deck in the lovely morning sunshine.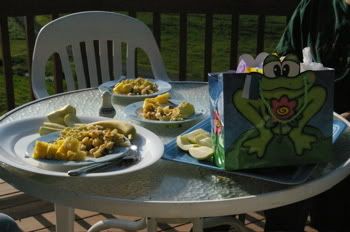 My sister was visiting this weekend and had taken the kids out to the store the night before to find some gifts for me. Her son went too and found something to surprise her with. There were gift bags on the table for both of us. My daughter gave me a vanilla scented candle, a small notebook with a kitten on it and a swirl notepad in a rainbow of colors. She also wrote me a very sweet note.

My son purchased a planter box, and three blooming plants. He put them in the planter for me and put it by the chair where I usually sit for morning devotions. This is the first year he wrote a note for me, on his own, without copying a single word. I'm really proud of that. Both of the notes are going in my notebook so I can look back and remember this nice day in the future.