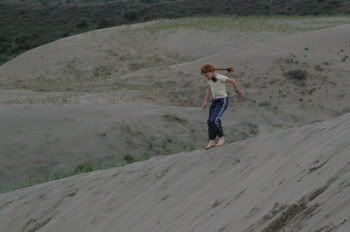 A couple weekends ago we joined another homeschooling family in celebrating their son's birthday. He wanted to go to some sand dunes and go jumping. Juniper Dunes is quite a drive and you have to know where you are going or you will get lost. There are no signs directing you there. Because it is surrounded by private lands, and access is through private land, it is only open three months of the year, March, April and May. That is probably the most pleasant time to be there, weather wise. It would be too hot in the summer and too windy in the winter. As it turned out for us, it was over cast, but not more then a couple drips of rain, no wind, and the temperature was pleasant.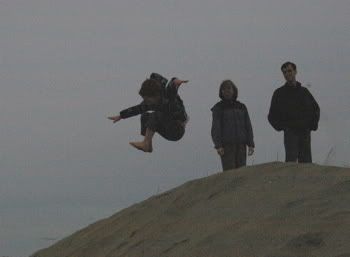 The kids had a great time running and jumping off the edge. The landing is soft, so you don't have to worry about much more then getting sand in your eyes. The adults enjoyed the jumps too. I'd post a photo of them all jumping together, but I'm not sure that all would enjoy the world seeing them involved in such an activity. Still, I have to say the group jump was pretty spectacular.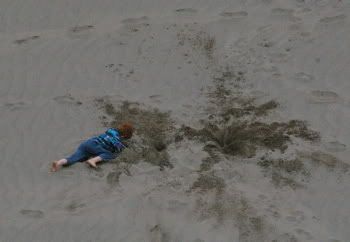 When the kids got tired of jumping and climbing back up the hill, there was a giant sand box to dig in to their hearts content. The holes went deep, but no one struck oil or found the subterranean way to China.