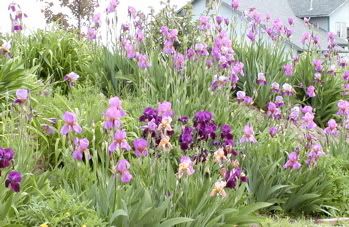 The iris are in full bloom at my house right now. I am really enjoying them as I do every year. Every time they bloom, I feel thankful for the people who planted them long before we bought this house.

Yesterday I got to meet one of my blogging friends in person for the first time. We met together for tea at the local tea room. (Visiting the tea room was also a first for me.) La Tea Dah enjoys tea, gardening, nature and other pretty things. I was pleased to discover that she was as beautiful in person as I guessed she might be from reading her blog. I look forward to when we can meet again. Another lady joined us, Toshiko, who I have known about on line for the last year. She was in town visiting her daughter, which provided the perfect opportunity for the three of us to meet together. We had a lovely time sipping tea and getting acquainted for a couple hours.

My husband allowed our children to come to his office during that time. The three of them walked to a local park and had a picnic together. Then he did some reading while they played on the toys. It seems everyone had a nice time.